You're here today to save money with homemade cold Starbucks drinks! With summer upon us, we're looking for cold drinks to cool us down on hot days.
How many readers enjoy going to Starbucks?
I'm not a huge Starbucks fan, but that's because I'm not a big coffee drinker. I'll drink an iced mocha though, as long as it has enough chocolate in it to disguise the coffee taste!
I'll go to Starbucks every now and then because sometimes I get Starbucks gift cards. However, it's become an exercise in frustration trying to add gift card amounts to my Starbucks app, so I'm weaning myself off the rare Starbucks trip.
Save money by skipping your daily Starbucks fix
I'm not one of those people who can relate to financial advice that goes along the lines of skipping your Starbucks latte daily and use the money you save by paying down debt or buying stocks.
Two or three trips a year to Starbucks isn't going to affect my finances one way or the other.
However, I do recommend David Bach's book, The Latte Factor, because that'll get you thinking! I enjoyed reading it, and think I need to go back and read it again. Fortunately, it wasn't a lengthy read. (Disclosure: I'm an Amazon association and if you click the link and make a purchase, I'll receive a small commission for the referral.)
If you have debt and/or saving money to set up an emergency fund, avoid unnecessary purchases until you're in a better financial situation. Once you're on track with your financial goals, then absolutely treating yourself to Starbucks is a great reward.
When you're watching your pennies, you can save a lot of money by avoiding $5 icy drinks at Starbucks, so I've found a few recipes you can check out. Click any photo to go to the recipe.
Strawberries and Cream Frappuccino
Let's start with what used to be my go-to drink at Starbucks because it has no coffee in it! It was also one of the first Frappuccinos on the Starbucks menu.
I'm talking a strawberries and cream Frappuccino! Here are two recipes to try.
One recipe calls for a cup of ice cream, milk, and strawberries.
The other recipe uses less ice cream and less strawberries, but needs strawberry syrup.
If you're ambitious, you could make your own strawberry syrup, but most people would buy bottled syrup like Torani. I've also seen similar, cheaper syrups at Walmart, though I don't remember the brand name! You also need whipping cream. Best bet, buy a can at the grocery store.
Iced Mocha
It's pretty easy to make an iced mocha. No need to go out and spend big bucks!
If I'm in a hurry, which I usually am, I put a spoonful of instant coffee plus a couple of spoonfuls of chocolate powder into a cup.I add a small amount of boiling water, like a quarter cup, then add ice cubes and milk. Mine doesn't taste too much like Starbucks though!
If you already have brewed coffee on hand and chocolate syrup, give this easy iced mocha recipe a try.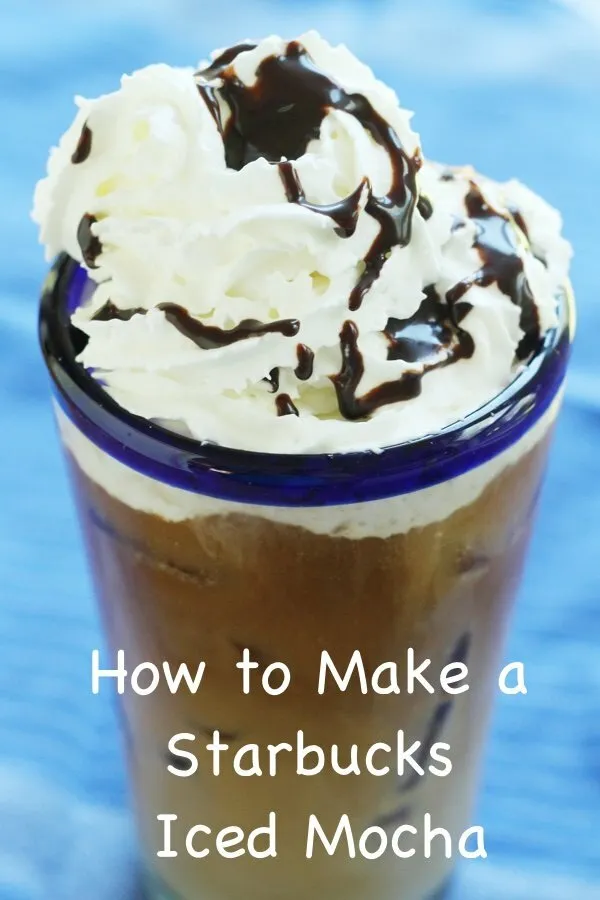 Iced Chai Latte
Whenever I have an upset stomach, I turn to a chai latte. Either hot or cold.
Here's an easy iced chai latte recipe.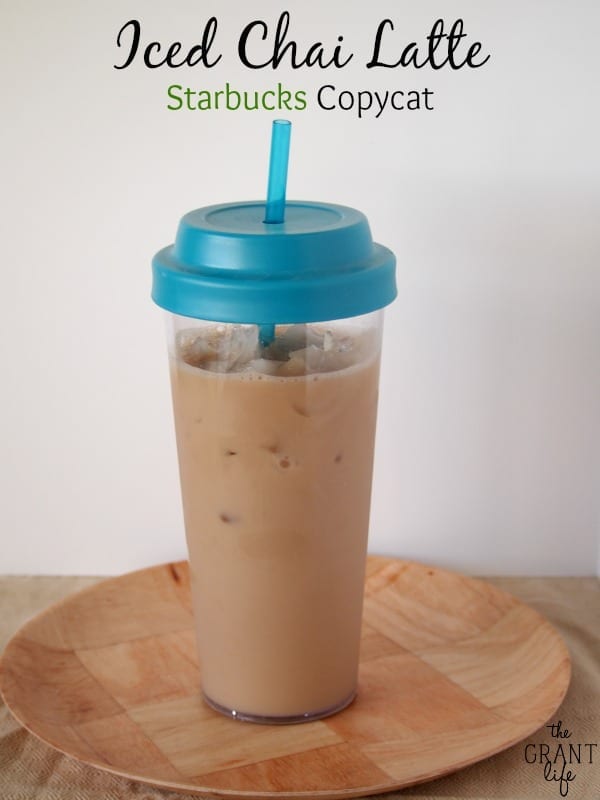 Chocolate Chip Frappuccino
Not recently, but I have bought a Java Chip Frappuccino at Starbucks and been bouncing off the walls all night!
The closely tasting Chocolate Chip Frappuccino gives me the same chocolate buzz but doesn't keep me up past my bedtime.
Iced Caramel Macchiato
Every now and then I enjoy a nice iced caramel macchiato so I keep caramel syrup and caramel macchiato powder on hand. Yum!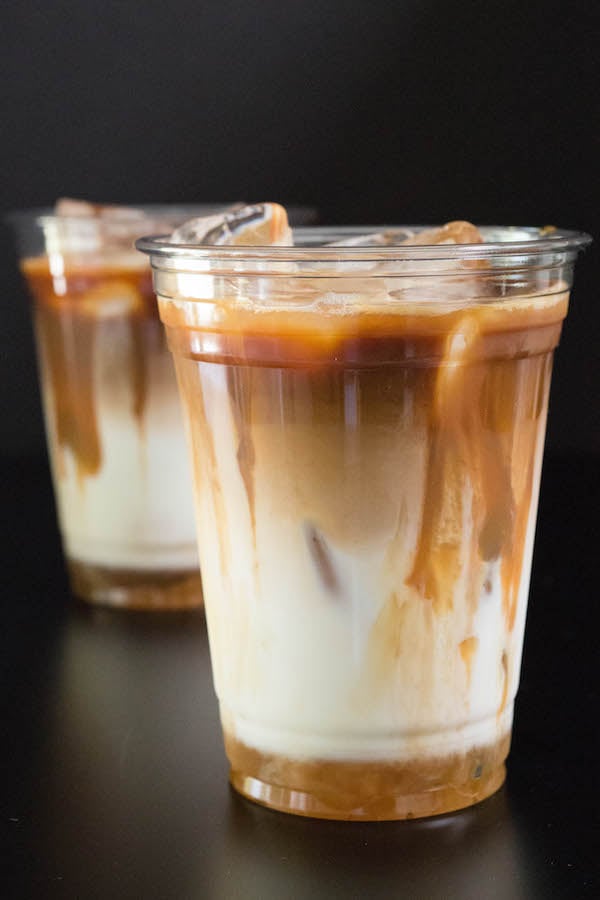 Salted Caramel Mocha Frappuccino
If you like caramel, chocolate, and coffee, here's a recipe for a salted caramel mocha frappuccino.
Starbucks Passion Tea Lemonade
One of my favorite low-calorie drinks at Starbucks is the iced passion tea lemonade. The problem with ordering it at Starbucks is they put too much ice in it, so you have to ask them for light ice. Or save your money and make it yourself at home!
Pumpkin Cream Cold Brew
Who else tried a pumpkin cream cold brew at Starbucks last year? Wasn't it great! That creamy froth on the top. Yum! Anyway, if you have a little extra time to make the pumpkin cream and store it in your fridge, you'll love this recipe for pumpkin cream cold brew.
You don't even have to wait until the fall to enjoy a pumpkin cream cold brew. You can drink it all summer long.
Red Velvet Frappuccino
I saved the most complicated Starbucks recipe for the end. But boy is it good! Another one of my favorites.
It's been a few years since I've seen the Red Velvet Frappuccino on the menu board at Starbucks, but I think you can still ask for it if the barista knows it from their "secret menu".
Or you can make it at home, if you're a really committed red velvet fan and have a bunch of the Torani, or similar, syrups on hand.
What's your favorite summertime drink at Starbucks?
More reading: