You must be here because you're looking for an easy veggie chili recipe! For many years I've been making vegetarian chili in my crock pot. It's a pretty easy recipe – just dump in the ingredients, set for low or high depending on your schedule, and go do something else while the chili is cooking.
And then I got an Instant Pot. Easy chili making! There's a button that says "chili". Throw in the ingredients, press that button and the timer sets for 30 minutes. Then I just let the Instant Pot do its thing.
You can watch me in action on YouTube making the Easy Veggie Chili.
KIDNEY BEANS – CANNED OR DRY?
I've mostly used canned kidney beans for my easy veggie chili, because it's so easy to open a can and dump the beans into the pot. However, since buying the Instant Pot, I'm saving tons of money buying dry beans and cooking them in there.
If I'm starting with dry kidney beans for my easy veggie chili, I use one cup and put enough water in the pot to cover the beans by about two inches. I put the lid on and make sure it's in the "sealing" position. Then I use the manual button to set the timer for 20 minutes.
PLANT BASED HAMBURGER CRUMBLES
For the "hamburger meat", I use a plant based product made by Yves that used to be called Just Like Round but now it's called Veggie Ground Round.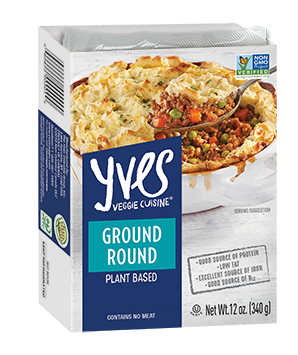 You can use any similar product for this recipe. I see a lot of recipes from the states refer to a product named seitan. The Yves round comes in packages just under one pound.
Put it in crock pot or Instant Pot. No need to brown it ahead of time in a skillet.
AND THE REST…
Open a can of tomatoes and pour it in in the pot. I like chili style tomatoes for this recipe, but just use whatever you have in the house.
Next chop up a bell pepper, any color. Then chop a quarter to half an onion, depending on how much you like onions.
Making this task even easier, chopped onions and a pepper/onion mix are available in the frozen section! This is what I use now – perfect for singles and cuts back on food wastage. Also, someone else got to cry peeling and chopping onions!
Then I add a spoonful of chili and stir all the ingredients to combine.
Sometimes I have a can of jalapenos in the house and add them to the chili.
INSTRUCTIONS
I used to make my easy veggie chili in the crock pot. I'd set it up in the morning on Low for 8 hours and it would be ready for dinner. If I was planning on having chili for lunch, then I'd put it on High for 3 to 4 hours.
If you're using an Instant Pot, push the button that says chili. Once it's done cooking, either let the Instant Pot naturally depressurize, or use tongs to push the dial off the sealing position. Watch out for steam! I usually leave the chili alone for an hour or two on the warming cycle until I'm ready to eat it.
Here's the Instant Pot that I bought from Amazon. (Disclosure: I'm an Amazon affiliate. If you click the link and make a purchase, I'll receive a commission for the referral.)
EASY VEGGIE CHILI
MORE RECIPES: